Over the Years there have been many finishers that the audience and fans around the world have loved. They have loved them because of the impact looks and the excitement and rise it gets from the crowd. I decided to pick my top 10 finishing moves in the sport today going from 10 to 1.

#10 - The Styles Clash
The move AJ Stlyes uses from either the top rope or in the ring itself.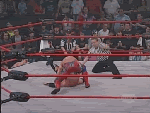 now it's number 10 because of the way it looks some people might say it doesn't look appropriate. Besides that i give the move a 5 out of 10 on level of impact.

# 9 - The Spear
The move that Edge uses to take out opponents, many wrestlers have used it thats why its in the top 10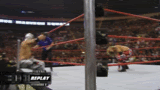 # 8 - The RKO
Randy Orton's move that is much like the Diamond Cutter but is more innovative when used by Orton... considering that he has used it various ways which makes it effect from anywhere.



# 7 - The Choke slam
The chokeslam has been used by almost every single big man in the sport but it's level of impact is the reason why it cannot be left out of the top 10.



# 6 - Sweet chin Music
The move that the heart break kid Shawn Michaels has used for over 20 plus years. It's quicker than a hick up and thats why it made the top 10.



# 5 - The Swanton Bomb
Rounding out part one of the top 10 is Jeff Hardy's Swanton bomb. The swanton bomb has always gotten the crowd excited like no other move thats why its number 5.





~Derek Gause~