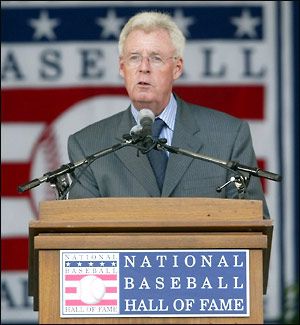 With the trade deadline only one week away and all hell about to break loose, Peter
Gammons
will become the most important person in my life. (Sorry everybody else in my life, but you have to understand this time of year for me. In the words of Tony Soprano anytime he got a phone call during Sunday dinner; "This is my busy season.")
The early rumors have been involving Brian Fuentes going to any team in contention, (I'm giving him the Scott
Sauerbeck
award for the reliever that will fail wherever he goes but is rumored to be going to every team leading up to July 31st.) Earlier this week the price tag for Fuentes came out and my jaw hit the floor. From the Yankees they want Ian Kennedy and from the Red
Sox
they want Clay
Buchholz
and the equivalent from every other team that is interested. In my opinion Fuentes is no where near worth it, I
understand
that he pitches his home games in a hitter friendly
environment
, (so is
Fenway
) but for crying out loud the Rockies are in the National League West. Can you name one offensive team in the National League West who would make you the least bit nervous and the only argument you could make would be COLORADO if they were
completely
healthy. So I am saying to heck with Brian Fuentes coming to the Red
Sox
.
The rumor that cropped up today was Juan
Uribe
. I'm not sure if I'm on record saying this or not but I have
definitely
said it before, Juan
Uribe
might be the worst player in Major League Baseball to the point that I have no problem envisioning him even farther overweight playing 1st base for the
Connecticut
Defenders at anytime now. I agree with playing Jed
Lowrie
for the bulk of the time that
Lugo
is on the shelf because he could pull an
Ellsbury
and steal the job by the time playoffs come around fair and square. To say though that
Uribe
is an upgrade at all over
Lugo
is insane and even over Cora seems like a stretch in this writers opinion. Not only does
Uribe
remind me of Manny Alexander (huge strike against) he might have the worst swing in baseball history(perfect for
wiffle
ball though).
The verdict is to heck with
Uribe
.
I've solved the problem at short stop, now for the hole at middle reliever, I'm looking at you Javier Lopez. The names that I have heard out there are George
Sherrill
and Ron
Mahay
. I would be willing to post a decent fee for George
Sherrill
, the kid absolutely has stuff and left
handers
have a tough time with his heat and his movement. He's only 31 and has the stuff to become a dominant set up man for a team like the Red
Sox
. The other cheaper alternative here is Ron
Mahay
.
Mahay
has been dealt at the deadline before going to the Atlanta Braves a couple years ago, and that worked out pretty well. He has good stuff and his ERA this season is below 2. He is a proven veteran with a good track record pitching for bad teams. Who really knows what he would do in a pressure situation which he probably hasn't been in, save with the Braves, since his time with the Red
Sox
back in 1998.
Sherrill
sounds like a bit of a reach especially with his new contract in Baltimore and Peter
Angelos
doesn't seem willing to build for the future just be futile for today.
I say go out and get Ron
Mahay
and make a
overture
towards Baltimore for
Sherrill
and point out that their all-star closer's ERA is almost 4 and that you'll take that great big contract off their hands. (Sounds too greedy? Yeah, it's too greedy.)
Game Over!!!
Sterling

Pingree