In the spirit of the Stanley Cup Playoffs which start April 9th, I decided to count down my top 10 favorite playoff moments.

#10 - Mark Messier's Game 6 guaranteed victory over the New Jersey Devils in the '94 Eastern Conference Finals. With Messier's New York Rangers facing elimination he took it upon himself to guarantee a game 6 win and force a game 7. Not only did the Rangers win but they did it in style, led by Messier's hat trick to seal the deal. This game was huge since the Rangers went on to win game 7 in overtime and went on to the Stanley Cup Finals and ended a 40 year drought by winning the cup.


#9 - Steve Yzerman's Game 7 overtime winner against The Blues. The year was 1996 and it was the first round of the playoffs when Yzerman Blasted a shot that was heard around the hockey world. He stole the puck from Wayne Gretzky and fired a slapper top shelf from the blue that St. Louis goalie John Casey Never saw as it went off the post and in.

#8 - Bret Hulls Cup Clinching goal in game 6 against the Buffalo Sabres in the '99 Cup finals.
This goal to this day is stil being argued by Buffalo fans because back in '99 players were not allowed to score goals while being in the crease.... the case can be made that hull's foot was on the red line.


#7 - Jarimir Jagr's valiant effort against New Jersey in the '99 quarterfinals. Jagr had been out for most of the series but made an un-announced return to the ice at Melon Arena in game 6 and scored the game winning goal to force game 7. The Penguins ended up winning game 7 and upsetting the heavily favored Devils in the first round.

#6 - Ray Bourque finally wins Lord Stanley's cup to top off his career in the '01 finals. One of the best Defense- men of all time had always been eluded by the the Stanley Cup.Hid bruins were going nowhere fast until Boston did him a favor and traded him to the cup favorite Colorado Avalanche. Bourque and The Avs beat the Devils in 7 games to hep Bourque get the one thing he always wanted... The Stanley Cup.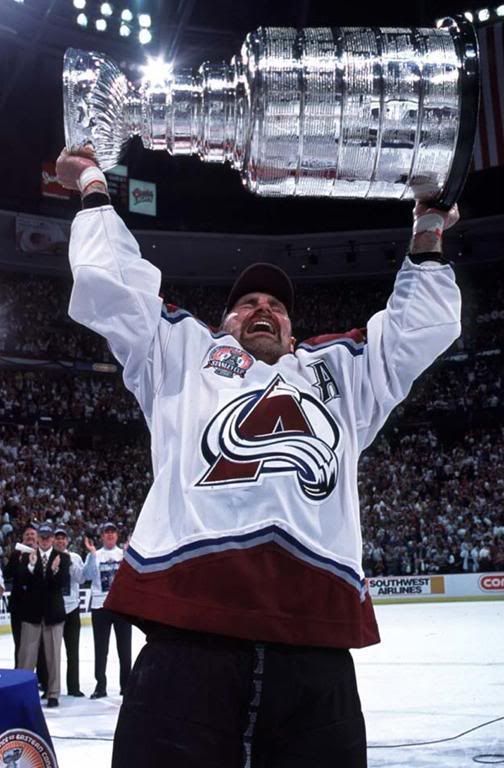 #5 - Oilers make it 5 in '90. The Team of the 80's other than the New York Islanders who won four straight cups was the Edmonton Oilers who won a 5th one in 1990 by sweeping the Bruins who were the favorites going into it. This one meant the most to the Oilers since it was their first without Wayne Gretzky who was traded to the Kings 2 years earlier. The public thought the Oilers new captain Mark Messier, couldn't lead the Oilers to the promise land.


~Derek Gause~