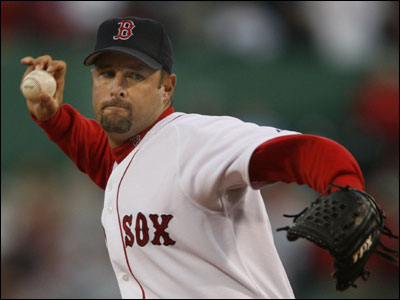 You had to see it right?
What I was talking about two days ago when the Diamondbacks beat the Red
Sox
in game one of this three game series and I predicted that this would be the match up featured in the World Series. Some people called me crazy, saying things like "This is the Cubs year" or "Nobody in the
NL
can stop the
Phillies
offense, not even Webb and
Haren
."
I'm here to tell you that after tonight's game I'm convinced of it, and you know what? Even more than being right about predicting this to be the Fall Classic, I want to be right because these last three days have been playoff caliber baseball in June. I know that might be a stretch at this point in the season where there are some pretenders still in contention (I'm staring a whole through Tropicana Field, Tampa!) but the thing I'm looking at with both of these teams are, neither one of them as at full strength or where I think they will be in October.
Through 81 games (yes that is officially half the major league season) the Red
Sox
aren't nearly as good as they will be because of injuries. David Ortiz has missed a lot of time and will miss 2-3 more weeks and will likely return after the All-Star game. He comes back and the team gets
exponentially
better and deeper. Right now, two of the starting pitchers that broke camp in the rotation have been on the disabled list (
Buchholz
and Dice-K) and have been sufficiently replaced because of the depth within the organization. The law of averages has to be in Boston's favor that they won't have the problems with injuries in the second
half of the
season, as long as the players that got hurt in the first half don't have lingering problems in the second half. This is a first place team that hasn't peaked yet. Comparing it to last year's team, they are two games off of last year's pace and at the 81 game mark of 2007 the Red
Sox
led the second place Y
ankees
by 10.5 games in the AL East.
The Diamondbacks haven't had the same type of problem as Boston. Arizona's has been the young players that emerged for them last season haven't shown up this year. Eric
Byrnes
had the best surprising season I can remember, Chris B. Young ended up with a very nice year after I gave up on him in my fantasy team at the All-Star break last season. Conor Jackson has stepped up this season, but he is about the only one. Chris Snyder has been solid behind the plate, which was looked at as a weakness for this team. Their bullpen is very good, Chad
Qualls
has nasty stuff and Tony Pena has been lights out setting up. The problem with the bullpen for this team is the end of the game. I just don't trust Brandon Lyon. As a Red
Sox
fan and follower, I hear the name and the only good thing that comes to mind is trading him for Curt Schilling. When getting traded is the best memory of somebody, it's either 1. not a good thing or 2. your name is
Heathcliff
Slocumb
.
But the main part of this team is the starting pitching which even in this series where they lost two out of three games, they got good starting pitching in all three games. Dan
Haren
was lights out in game one, Doug Davis threw 7+ innings of 4 hit ball in game two, and Randy Johnson showed that if healthy he can carry the load as the number three of the staff. This is one of those teams that if they make the playoffs is the biggest question about them. If they do, nobody wants to face them.
Now a day off, I will be watching the NBA Draft in the white chair at my buddy Zach's. I'll be in contact with Jackson during his Jogging Diary of the NBA Draft as well, so be sure to check that out on Friday. I can't wait for that, and Bill Simmons Running Diary. Friday's a big day.