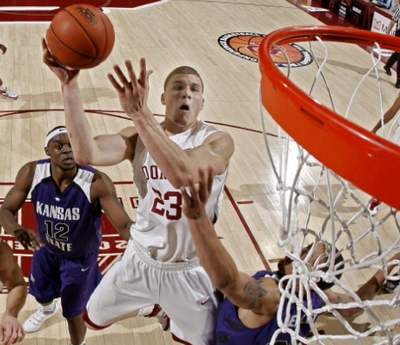 First off, I know, new header, I have
finally
changed the name of the page to "Sterling Sports". I think I can,
seeingsthough
I am the last survivor of the site that was started more than a year ago. Now onto the Degenerate Break it Down of the Sweet 16.
MIDWEST
1. Louisville v. 12. Arizona
Louisville should run away with this one. Arizona was one of the hottest teams coming out of the first two rounds of the tournament, but look for Rick
Pitino's
Cardinals to bounce back after a couple tough games. In the tournament the old adage is very true, what doesn't kill (or eliminate you) makes you stronger(makes you stronger, (I guess I only had to change the beginning of the saying). Louisville is one of those deep teams, when you can bring a guy like Edgar Sosa off the bench, you're without a deep team. Arizona's starting 5 have been producing incredibly effectively, except the
kryptonite
for a team like this is taking on a team with a deep bench. Take into account the coaching mismatch and Louisville should roll by about 16 points.
3. Kansas v. 2. Michigan St.
This is going to be a terrific match up.
Sherron
Collins (who Tom
Izzo
called this afternoon on the Jim Rome show, the best point guard in the country.)
matches
up with the very skilled Spartan back court. These are two veteran teams that have had tournament success and two of the top
coaches
in the country. This is going to be a very good match up, I see Kansas winning it though. On the latest edition of the BS Report, J.A.
Adande
and Bill Simmons talked about how teams who win a championship go a round further than they probably should the next season. I had Kansas losing last weekend to West Virginia, so if I do believe somebody who picked BC to go to the Elite 8 just to jinx them, then that's what I will do.
Kansas pulls this one out by 5 in what is going to be a terrific game.
WEST
This game could be better than I thought and after the revelations and the yahoo.com piece about recruiting violations at
UCONN
, they could be in for a rough weekend. The only thing that could save them is the fact that I believe most of the
UCONN
players are there via recruiting violations. This won't distract this team because I don't think they care about anything beyond what goes on between the lines.
UCONN
will roll in this one, by 16, but will stumble in the Elite 8 against either Memphis or Missouri.
3. Missouri v. 2. Memphis
This is going to be an incredibly athletic game, up and down and if they are each hitting their shots this could be the highest scoring game of the tournament. These are two teams that could turn this into a track meet. This is also a huge game in one of my bracket pools with my buddy Tom. He has Missouri in the Final Four and I have them in the Elite 8 so this is a showdown game in this tournament and so far I have lost many of our showdown games. It would also be nice if Carolina were to lose to Oklahoma like I have picked, but that's another column.
EAST
1. PITT v. 4. Xavier
Xavier pulled away from Wisconsin in the last round and PITT had a real battle with Oklahoma State (See Louisville). PITT survived and really played very well in that game. Oklahoma State could not have played any better in that game and people looked at it as a sign of weakness for PITT, when really they showed what they were made of that they could take the best shot from an extremely athletic team. Xavier is a similar style to Oklahoma State but not as talented. PITT should roll in this one and into the Final Four.
I can't possibly be objective in this game. The
Dukies
had to battle Texas and
Villanova
eliminated UCLA very easily across town from their own campus. This is a very good match up, Doug
Gottlieb
said that it was the best match up of the Sweet 16, and it might be. There will be very little post play in this one, very little inside game and there will be plenty of tremendous guard play and plenty of 3's will be jacked up. I'll be watching this one in Shoeless Joe's in Fort Myers, had I known that the Sweet 16 was going to be in Boston, I would have been at this one in the Garden.
SOUTH
Here's another game that it will
be hard
for me to be objective about. I do think that it's possible that this could be an upset in the making.
Gonzaga
on paper matches up pretty well with North Carolina, except that suddenly Ed Davis is playing very well for Carolina and Ty Lawson looked fantastic against
LSU
.
Pargo
and
Heytvelt
will have their work cut out for them now, so I think
UNC
will pull this one out by about 12.
3. Syracuse v. 2. Oklahoma
Oklahoma has had a couple of real battles in this tournament that might not be like the other top teams that had this same affliction, (Louisville and PITT, by the way, these three teams are all in my Final Four, how good do I feel?) This is going to be a tough match up, can Blake Griffin take this game over? Yes, will he? That is the question that will dictate who wins this game.
Oklahoma wins by 6.
Off to Fort Myers, check back next Tuesday for my annual Grading the
Sox
column.