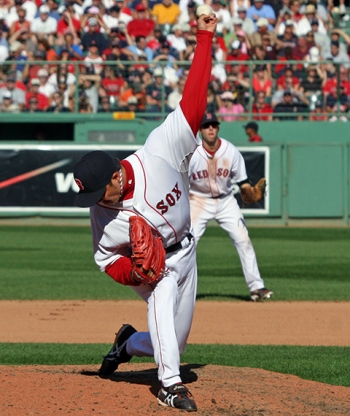 What makes the Red
Sox
a unique organization in Major League Baseball? Is it the fact that they are a contending team that has cut payroll and might be better than they were last season. What sets them apart more than anything else though is their willingness to explore different types of players, before you say it, no this isn't the
Moneyball
argument (though I am going to use the Oakland A's as an example) this is bigger than that. The Red
Sox
have expanded on the theory of evaluating players differently and because of available money, they have been able to get more creative with the players that they go after.
In an piece by
WEEI

.

com's

Alex

Speier

,
he discusses how Japanese pitchers differ mechanically from their American counterparts. I'll take it a step further, which team has the most Japanese pitchers on it's 40-man roster? The Red
Sox
have 4 on the 40-man and 3 of those are on their 25 man roster (Dice-K,
Okajima
and Mr.
Saito
). The Red
Sox
have gone beyond looking for statistical abnormalities that were described in
Moneyball
, they have now gone into different form. Where the Oakland A's faltered was that they saw market abnormalities in the
MLB
Draft and thought that each draft would support the same abnormalities. They haven't. Barry
Zito
was the greatest example of this, Kirk
Saarloos
was a guy that they got from Houston and though he would support their theory and give them another way to find this type of player.
Saarloos
never had an impact,
Zito
left Oakland and his impact has been so minimal that his contract is widely considered the worst in sports history. It's not Billy
Beane
or his scouting department's fault that the market or guy's like
Zito
or even Mark Mulder have dried up, it's that they haven't been able to spend the money to dip into the pool of International talent that the Red
Sox
have done successfully and the Yankees have unsuccessfully. (I had to take a jab at the Yankees at some point in this column......
Kei
Igawa
!)
Perhaps this is an overstatement but the Red
Sox
are now dealing with deception, but in a good way and potentially a great way. I watched the Red
Sox
spring training game with Tampa today and for 8 innings I was excited to see each pitcher the Red
Sox
threw out there. (I'm sorry Hunter Jones, you did throw a scoreless inning though, that's something.)
Masterson
for 3 innings,
Papelbon
for 1, Bard for 1 (WOW),
Tazawa
for 2 (impressive) and
Bowden
for 1. How many franchises can do something like that? Right now there is only one team that can entertain for an entire spring training game in the beginning of March?
I'd be
deceiving
you if I said it wasn't the Boston Red
Sox
.